We invite your perusal of our last two newsletters (if you have not seen it) for year 2016 attached.
May God's Blessings and inner peace be with everyone in the New Year!
May we all have the moral courage to support the material lives we chose
in order to progress...and m
ay we retain LOVE always in our hearts...no matter our circumstances.
Also, please review the list of important and classic Spiritist books below.
Thank you!
Yvonne Crespo Limoges
Spiritist Society of Florida
BELOW.... THREE IMPORTANT SPIRITIST BOOKS....first edition translations into American English:
1) AMALIA DOMINGO SOLER'S

famous

Spiritist classic from Spain and translated by Edgar Crespo into American English, the book:
Memoirs of Father Germain
An orphan before age five, Germain spends two years living alone on the seashore in seventeenth century France.
One fateful day he strays into a castle of monks-and is not allowed to leave. The monks educate him and he is proved to be an excellent student, but he suffers from their cold and unfeeling ways. As a young man, Germain eventually takes his vows becoming a priest in the Catholic Church.
He settles in a poor village with his faithful dog, Sultan, and it is here that he consoles the humble and oppressed-sometimes risking his life for their sake.
HOWEVER, FATHER GERMAIN HE IS A MEDIUM AND BELIEVES IN REINCARNATION!
Father Germain teaches love of the Creator and mankind with a belief that even the most hardened heart can be turned toward goodness. He exposes church hypocrisy and is persecuted by his superiors; yet he continues to teach according to his conscience.
Memoirs of Father Germain is the touching, true account of this beloved priest's life relayed to Amalia Domingo Soler of Spain through the mediumship of Eudaldo.
His life stories of intrigue, adventure, human emotion, and morality will provide you with tremendous inspiration, b
ring you love and cause you to open your heart with compassion!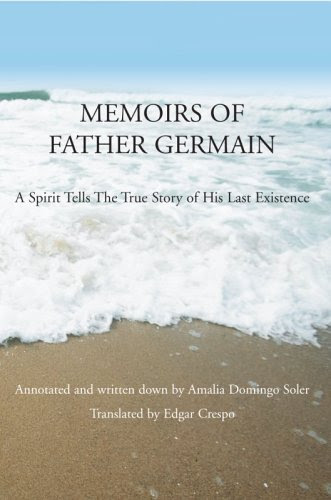 2) MIGUEL VIVES, Famous

Spiritist from Spain

- a Spiritist classic!
A PRACTICAL GUIDE FOR THE SPIRITIST
(translated from Spanish by Edgar Crespo)
Having faced adversity and tragedy in his early life, Miguel Vives found salvation in Spiritism, and became a healing and spiritual medium.
In this concise guidebook Vives draws a precise roadmap that shows how we can reach a new level of spiritual fulfillment and a profound sense of peace and communion with humanity.
Based on his understanding of the natural and spiritual law of reincarnation, Vives provides guidelines for our obligations to our Creator and to Jesus-based on a universal moral code.
He explains simply how Spiritists should act before: the Creator, Jesus, ourselves, our family, other Spiritists and Humanity, and how to handle the trials and temptations of this Life...
A practical handbook for Spiritists! A must have... and only 61 pages long!
Discussed on Kardec Radio!
4) FUNDAMENTALS OF SPIRITISM - The Soul, the Afterlife, Psychic Abilities, Mediumship, and Reincarnation and how these influence our lives
Written by Jon Aizpurua - University professor, economist, producer, radio broadcaster and

lifelong

Spiritist born in Venezuela. (translated into American English and published in 2013)
This book is the most modern up to date book on the entirety of SPIRITISM available to the English speaking public.
It has the most detailed chapters involving mediumship and all that is involved with spirit obsession I have ever read. And, I write this as an experienced practicing Spiritist and medium over 40 years and head of a Spiritist Group that will celebrate 35 years in the year 2017.
It is the ultimate textbook on SPIRITISM! - Yvonne Crespo Limoges, Spiritist Society of Florida
God Bless all!